A TRIBUTE to The STAR of 'The Jolson Story', 'Jolson Sings Again', 'The Swordsman', 'Down To Earth'... and more...
Leading man to some of the Silver Screen's most beautiful actresses

ELLEN DREW, BARBARA HALE, EVELYN KEYES, RITA

HAYWORTH..

and in real life to

BETTY GARRETT,

this handsome dark haired actor with the georgeous brown eyes shot to fame in the 1946 hit movie

'The Jolson Story'

which won him a Best Actor Nomination.
Born in Olathe, Kansas Dec, 1914 and growing up in Joliet, Illinois Larry went to College with the intention of becoming a Doctor but instead became interested in the Theatre after taking part in campus dramatics.
On graduating he found work with a Touring Stock Company until at the request of actor pal (the wonderful) John Garfield he packed his bags for Hollywood where he was finally signed to Columbia Pictures who put him in a string of 'B'Movies where he was afraid he was destined to stay. These included "Harmon of Michigan", "Mystery Ship", "Blondie Goes to College", "She's a Sweetheart" (which is a big personal favorite of mine:>) then finally "Counterattack" with Paul Muni which won him critical acclaim and a starring role in "Renegades" which then led to "The Jolson Story" a monumental hit with Larry giving an unbeatable 'miming performance' and in which he won mine and millions of other hearts..... and is still doing so whenever the movie is shown.
He wed the love of his life, Betty Garrett, who he'd met at The Actors Studio and for Larry it was love at first sight. They stayed married until Larry died of a heart attck in 1975. Following the success of "Jolson" he went on to star in "The Gallant Blade" "Down to Earth" with Riat Hayworth, The Swordsman" with Ellen Drew and was voted 1947's Bobby Soxers Man of the Year. ThenLarry and Betty put together a Song and Dance Variety Act to play The London Palladium after which the successfully toured England and Scotland to packed crowds.
In 1949 Larry reprised his Jolson portrayal for the Hit sequel "Jolson Sings Again", his performances reviving Al 's career and putting him back in the spotlight selling records to a whole new generation. After this came "Emergency Wedding" with Barbara Hale, who had played the second 'Mrs Jolson', the first played by Evelyn Keyes as 'Julie Benson' based on Ruby Keeler. Larry then starred with Elizabeth Taylor in "Love is Better than Ever" (1952, which i think would have been better if it had been in Color!) Then with Betty they again took their Variety Act back to Europe and from there to Las Vegas playing at El Rancho and The Desert Inn, at this time Larry was also Guesting on TV in 'Dr Kildare' and The Ford All Star Theatre. He went back to England in '55 to make "Tiger By The Tail ("Crossup" in the US.) On returning to the StatesLarry took the Lead Touring in "Teahouse of The August Moon" for three years (when Marlon Brando was offerred the part in the Movie he went to watch Larry and visited with him).Following this he toured in "The Marriage Go Round, "Any Wednesday" "Bells are Ringing" "High Button Shoes", "Plaza Suite" (which he loved and played again in 1970)"Cactus Flower" "The Tender Trap" some of these were with Betty Starring with him. he then did more TV (Hitchcock, The Untouchables) and his last Movie Role was in John Houston's "Freud" with Montgomery Clift in 1962. He also continued playing Theatre with Betty and their two sons, Garrett and Andrew.
---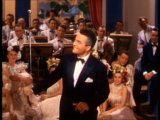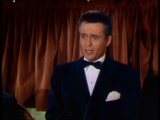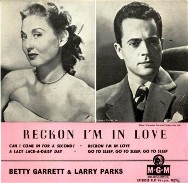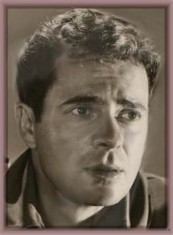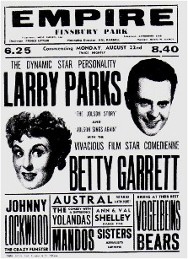 "From BABY to BABYFACE.."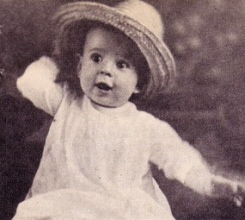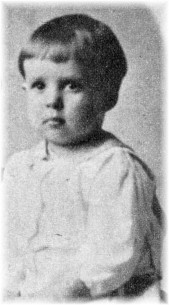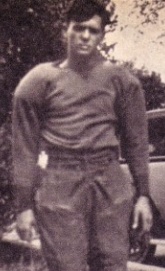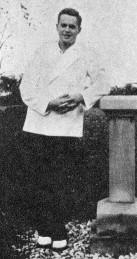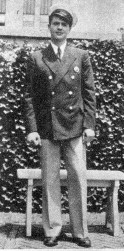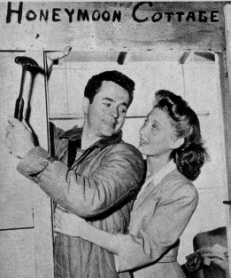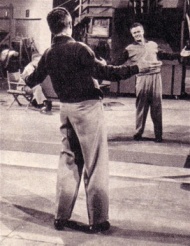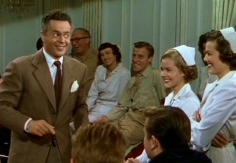 Larry, a few months old.. practicing "My Blushin' Rosie"!!!
Football in High School.. Larry in College.
Working as a Guide at
Radio City.
Larry, a friend & Mom & Dad.
Some of his many "B" Movies. Though "Counterattack" on left led to "Renegades"
"Renegades" left, leads to the Starring Role In "The Jolson Story". Below Larry rehearsing.
and later the sequel... and "Babyface"!!!
Right... Larry in "Teahouse of the August Moon"
Left a young Larry in "Counterattack".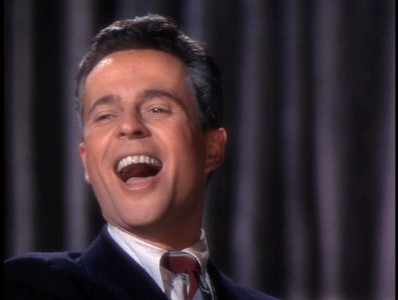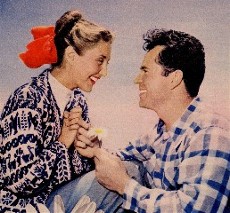 ---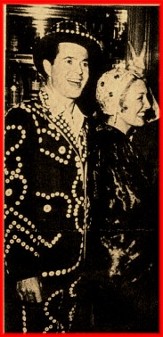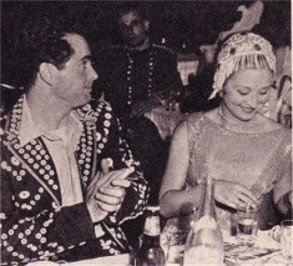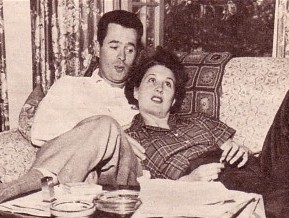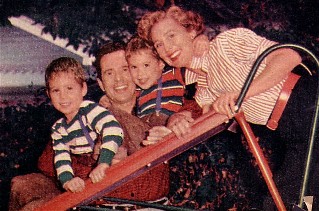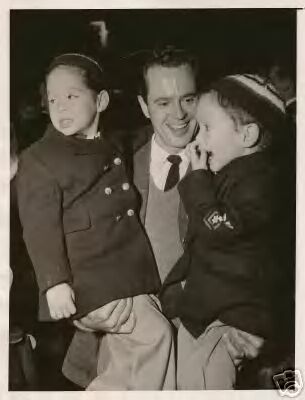 Off Screen.... Larry & Betty...
Above ..Larry as a London Cockney Pearly King and Betty as a 20s 'Flapper'.
Above with sons Garrett and Andrew...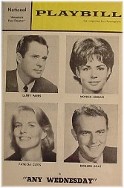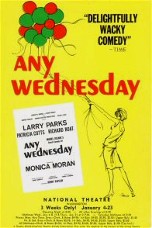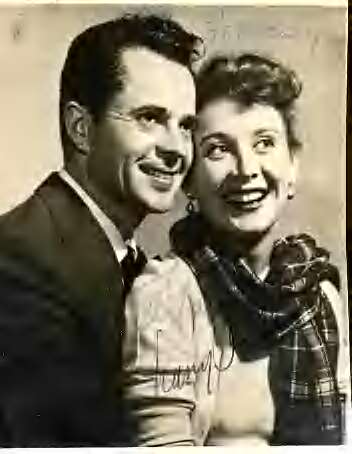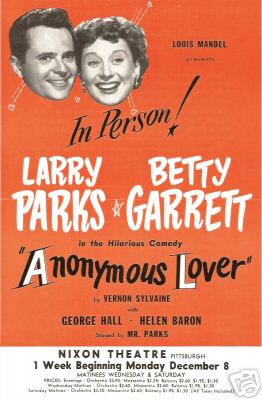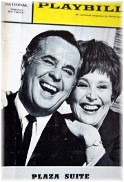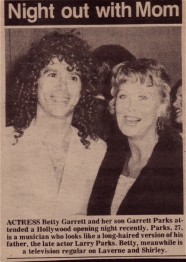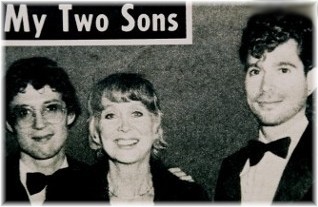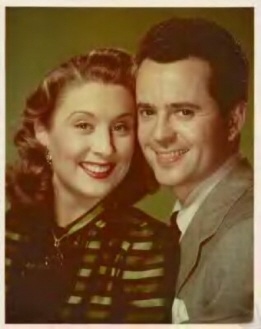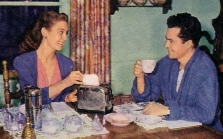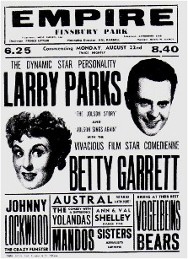 Above

Left are Posters and Programs from some of the Shows Larry and Betty toured in.


Right,

is a Publicity Photo taken for touring England.
---
Andy and Garry, in their teens, on a night out with their Mom, Betty Garrett Parks.
Left, Garry looks like Dad, Larry, in "The Gallant Blade" with the long hair:>) !!!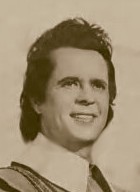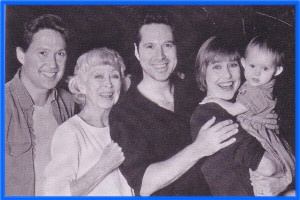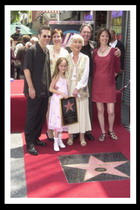 Andy,Betty,Garry,wife Karen and baby Madison.
Betty gets her Star on the Walk Of Fame, here with her family around her.
Rt. with Andy.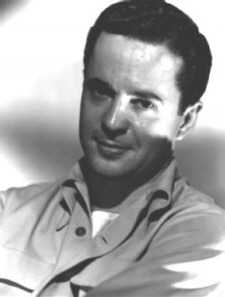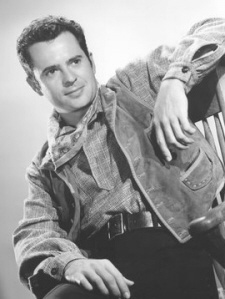 ---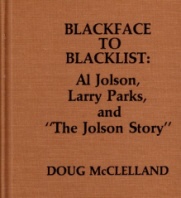 DOUG McCLELLAND , Author of this book was a very fine writer. I kept up a correspondence friendship with him for some years before his passing. This book is like a Documentary covering 'the trials and tribulations' of making "The Jolson Story". When i first heard of it i couldn't wait to get my hands on it being as obsessed as I am with Larry Parks and the Jolson Bios. The Title, I think is rather misleading, as it's not about the Blacklist (although mention of it is made) but the 'behind the scenes' making of this Movie.and background on all the leading cast members. Doug did extensive research for the book (as he did for all his works) but as i later noticed, when you are working with people's 'remembrances' there are discrepancies. He thanks Betty (Garrett) for all her assistance in the project and of course The Jolson Org. among others. Many of the Photos on our Site are from Doug's collection which he passed on to me, he was a great admirer of Larry's and inscribed my copy of his book .. "with admiration for your efforts to preserve the legend of Larry Parks & The Jolson Story". He wrote Articles for "Films of The Golden Age" (to which i still subscribe...) among his Books are ... "Down the Yellow Brick Road:The Making Of The Wizard Of Oz", "The Golden Age of "B" Movies" .... "Susan Hayward: The Divine Bitch".
Not easy to find now it often sells on ebay as a collector's item, i would suggest keeping a lookout in Used Book Stores, even Flea Markets etc.

RICHARD GRUDENS
Book "WHEN JOLSON WAS KING" The latest book on Al Jolson. I was asked to write a piece in the Book about Larry from a 'Fan's View'. Richard has written wonderful Books on Bing Crosby, The Music Men, (singers of the 50s) His Books are available at...

http://www.richardgrudens.com